7 GENUINE WAYS TO GIVE THANKS
"We must find time to stop and thank the people who make a difference in our lives."
― John F. Kennedy
"Thank you." A small phrase with a significant impact.
Giving thanks goes a long way to make someone feel appreciated and valued. When we extend gratitude we further strengthen the connection with that person.
Creating a positive impact through gratitude can be very meaningful. In fact, it doesn't even have to be expensive!
Say It In Writing
Writing a thank you note or letter goes a long way in showing gratitude. A kind, hand-written token shows that you cared enough to convey your gratitude with thought and care. Let's face it, in this electronic age a physical note is much more appreciated!
Employee thank you notes, personally written, are a perfect way to say, "thank you!"
Alternatively, thank you messages for colleagues at work are a wonderful way to express heartfelt gratitude for their help and support.
By the same token, a thank you letter for a business opportunity is also an admirable way to give thanks. This is a professional, yet gracious expression of thanks.
Not to mention, a thank you note paired with chocolate is a truly wonderful way to say "Thank You." Would you REALLY like to make it unforgettable? Let us create for you a custom chocolate bar in the image of a ruler. And in the note? Tell them, "You Rule!"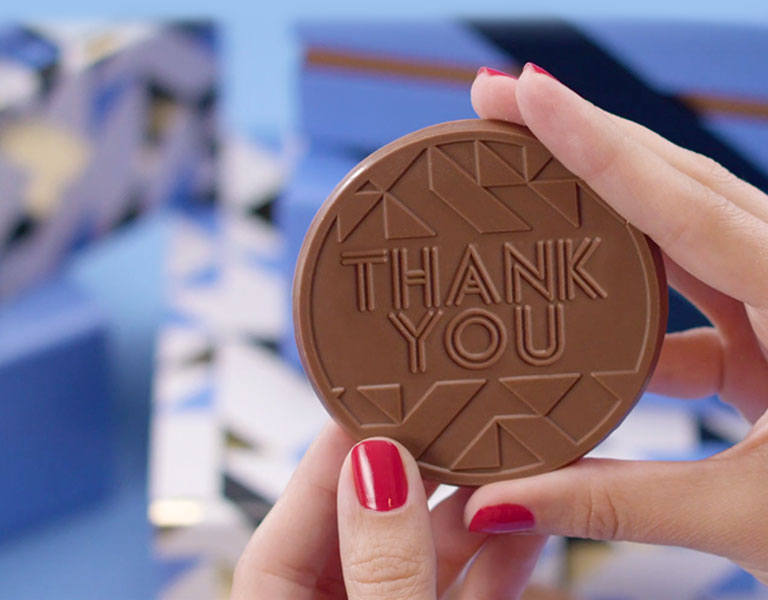 Treat Them To Lunch
There is an old quote that states the way to the heart is through the stomach. It's just as pertinent today as it was over 100 years ago.
If you are an employer and would like to show gratitude to your employees, treat them to lunch. And after their fabulous feast, you can treat them to dessert with custom-made chocolate coins. You may want to consider custom chocolate bars. Our Deluxe Milk Chocolate Bar is 8 ounces of rich, creamy Belgian chocolate. And, it's a tasteful way to show gratitude!
Additionally, to make it even more special, you can have a "Thank You" message engraved into this sweet, luscious bar. Or, inscribe your logo in the chocolate.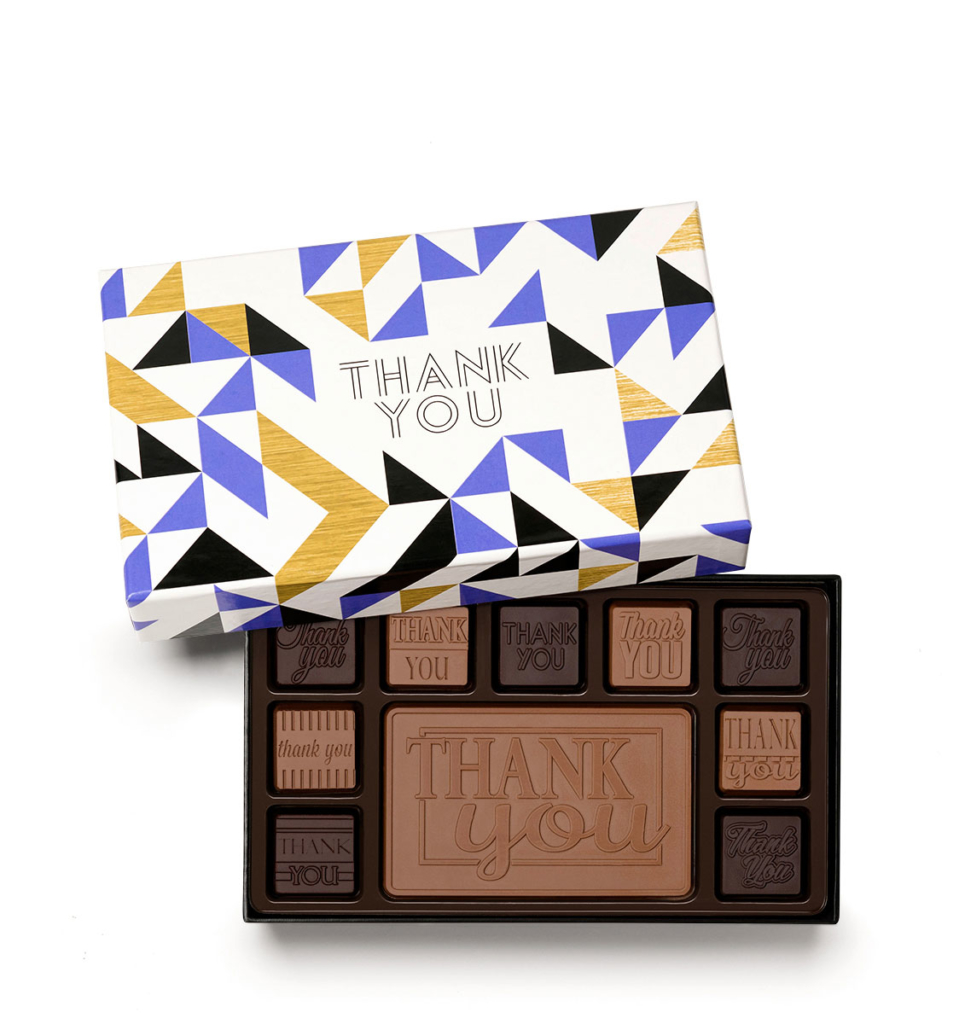 Movie Tickets
Thank you gifts are always an excellent way to show your gratitude. However, the true gift is the experience itself. People will remember the experiences and how they made them feel.
In fact, treating a group of coworkers or employees to the movies as a group outing can improve work engagement and relationships. Let's face it, a fun activity outside of work is a great way to bring cheer to others!
Certificate of Appreciation
Employees like to know that their work and presence are valued. To acknowledge their dedication, you can present them with a certificate of appreciation. While this may seem like a small gesture, it does go a long way toward helping them feel that they matter.
And, if you would like to make it even more sweet, attach a premium Milk Chocolate Coin. This sweet "Thank You" treat, encased in gold foil, adds a special touch!
Make a Charitable Donation in Recipient's Name
An impactful way to say thank you is to make a donation to a charity in the name of the recipient. Perhaps they are passionate about nature conservation or charities that assist children.
Or, maybe they have a special affinity for animals. Do they volunteer for organizations that help the homeless?
Donations to an organization that they truly love to support is a tremendous way to give thanks.
Team Swag
 Say "Thank You" to your employees with team swag! Not sure what to gift? Below are some unique swag ideas:
Virtual Swag (e-book, e-gift card)
Adult Coloring Book
Smart Phone Screen Magnifier
Pop Socket Phone Holder
Organic Herb Seed Kit (for those with green thumbs)
And let's not forget: CHOCOLATE!
Add gifts of sweet gratitude to those swag bags with scrumptious Thanks A Million Wrapper Bars! Each bar is engraved with the phrase, "Thanks A Million." Every delicious bite of these Kosher chocolate gifts will remind them of your gratitude.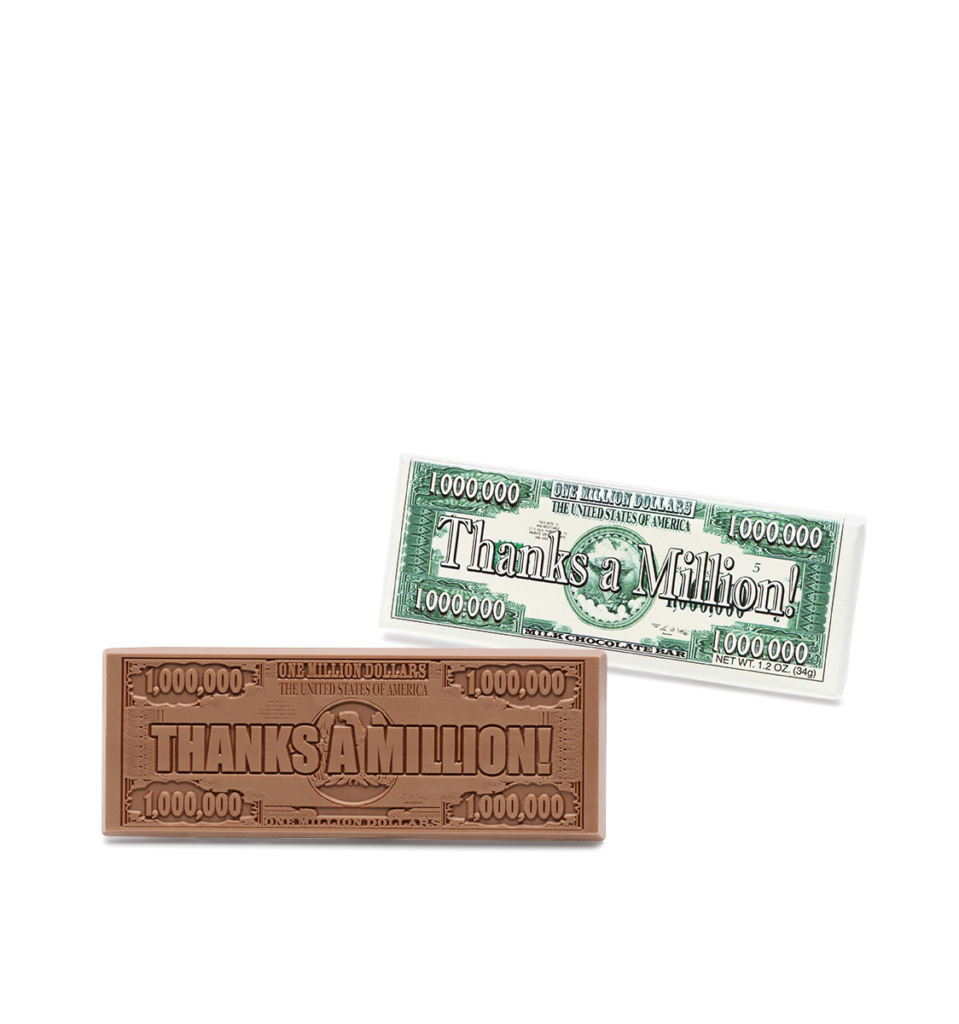 Say "Thank You" with Chocolate
Who does not love sweet surprises? And nothing conveys gratitude like sweet, creamy, delectable premium chocolate.
Maybe you are looking for gift ideas for the vice president of your company. Corporate chocolate gift baskets are the way to go! (We like to think outside the basket – gift towers are the new "basket!")
No matter how far up the ladder one is, everyone loves to be appreciated. Give the ultimate thank you with this Indulgent 3-Piece Gift Tower. Each luxe-wrapped box contains premium chocolate delicacies that are sure to please! In fact, there is enough to share!
Nestled inside the boxes are creamy, dark chocolate salted caramels and European style cookies draped with dreamy engraved chocolate. And the pièce de résistance: a custom engraved 2 pound premium chocolate bar!
This executive chocolate gift will have the recipient basking in appreciation.
Expressing gratitude, whether it be a simple, heartfelt note or a grand gift, is a sure way to help others feel valued and appreciated.