QUESTIONS? CALL US!
Our chocolate specialists are standing by to help you create a custom chocolate gift for any budget!
Fully Custom, Unique Chocolate Gifts!
Our artists make YOU look good! Send us your design, your logo, or even just your ideas. Our in-house art team will create a design, send a proof, explain the details, and discuss options with you! Creating a unique gift has never been easier!
"Through the design of chocolate to the delivery process. They make it all so worry-free!"
Speak to our friendly team today!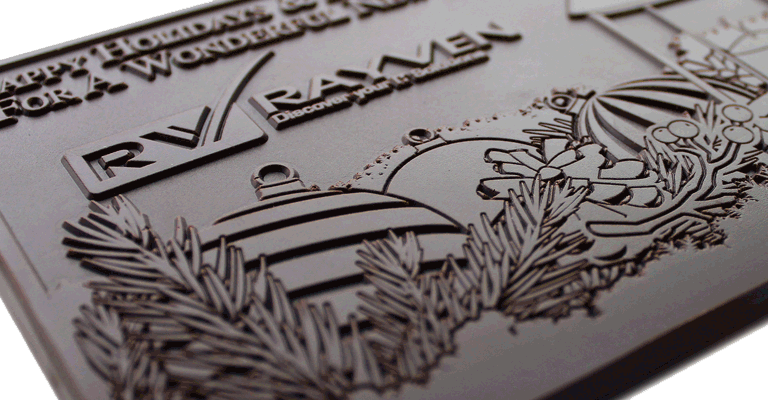 Next Level
Custom Engraving
Precision engraving as fine as 1 point font! (as small as this text!)
Work with our design team to create WOW factor
for your next event or occasion.
1-800-255-5506
Our Customers Love Us!
Take a look at what our customers are saying about our quality service and top-of-the-line
custom engraved chocolate gifts.
Take a look at what our customers are saying about our quality service and top-of-the-line custom engraved chocolate gifts.
zoom_in
"I have to tell you - the chocolate bars that you guys created were a HUGE HIT with our vendors and customers. Your company did an outstanding job with our logo and going that extra mile to make the exact bar we wanted. I wanted to send a note of appreciation."
zoom_in
"Our order was seamless as usual. I do appreciate how easy you make it for us. There were no issues and we have received several compliments from our clients on how much they enjoyed the chocolate bars. Thank you again and I'm sure we will be ordering for this Christmas as well!"
zoom_in
"I've ordered lots of promotional chocolate for my company. They are awesome and customize with our logo. They show me a visual picture of what we will get before we order. I get lots of compliments and I've referred a bunch of people. I've never been disappointed!"
zoom_in
"⭐⭐⭐⭐⭐ "The most incredible cookies in the world! Our office truly goes crazy over these every year!""
"The Totally Chocolate art department rocks! They took my bits and pieces of ideas and turned them into a masterpiece… in chocolate. I am not an artist so to have them help me and show me so many templates and ideas was amazing! Thank you thank you thank you! I have never worked with a company that is so responsive and it made my project turn out great and I looked like a star!"
zoom_in
"Everything was great. The chocolates arrived a day earlier than anticipated, which was actually a huge help for our event set-up. The packaging looked sharp and our customers and fellow employees were VERY impressed. Despite the rush, you made life easy for me, and everything came out perfectly! Thank you for your help."
zoom_in
"Kudos to your shipping department. The order arrived to the hotel in perfect condition even with the warm weather. The iced gel packs were still cool. You guys are pros!"
"We highly recommend Totally Chocolate "
"The best decision I made this year was to have you ship my packages directly to my customer list. The time-savings and hassle-free process was WELL worth the cost, which was actually quite reasonable! Thank you for suggesting that and taking such good care of us."
"Our CEO was impressed and that's what really matters. Plus your hands on approach from day one made my experience with Totally Chocolate a pleasant one."
""Great product at a more reasonable price than we saw from competitors. The customer service team was friendly and the design team was great! We sent them designs for the front of the bars and they were able to seamlessly copy our look and branding onto the back so we didn't have to worry about the shape of the wrapper.""
zoom_in
"You and your company are simply outstanding in the way you treat your customers – it is truly a pleasure to do business with you."
zoom_in
"⭐⭐⭐⭐⭐ Great customer service!!! Delicious chocolate!! Dorene is a rockstar!!! Keep up the good work."
zoom_in
""We were looking for the finishing touch to complement our corporate event, and Totally Chocolate was the perfect solution. We were even able to customize our wrapper to match the theme of the event! Not only are the chocolates beautiful and delicious, but the employees are so friendly and experienced. ""
zoom_in
"Thank you! You made our order hassle free…just what I needed. Thanks for your help!"
"We have used you for our holiday gifts for the past 6 years and last year we tried something different because we thought our customers might like a change but boy were we wrong! They let us know that they missed the great chocolate so we are back and want to take advantage of the early order specials. I'm so glad you save the molds!"
"The order turned out great and I still have more of my chocolate in your warehouse, right? Your free storage is the best solution because now I have something for the last minute requests I get from the sales staff. I was worried about ordering the minimum order but now I am happy I did because it will be there all year!"
"My order arrived on schedule. I really liked the new design on the boxes. My sales staff tells me the chocolates are very well received by our customers. You make ordering very easy and completing my order in July is a plus for me, also. One less thing to remember during the holidays. Thanks for your great customer service."
"By the way, you are great to work with! You have been so responsive and helpful throughout this entire process. From explaining all the options given my project parameters and outlining your custom mailing alternatives to getting me samples and meeting my deadlines, you have provided excellent service. I can tell that you really care about customer service and meeting your customer needs. As a person who works with a lot of vendors, you really stand out as super stars."
zoom_in
"I must say that we are VERY impressed with the boxes, the cookies (so crisp), and the chocolate(yummm), and the logo imprinted (so cool to see our logo in chocolate) - and even more importantly, our clients are impressed! I don't think we can ever send regular Christmas cards out again. We've had a great experience with Totally Chocolate, start to finish. I was so glad not to have to package and ship the boxes myself. They handled everything. Polite and professional from start to finish. This will be my go-to for Client Gifts from now on."
Awards and Press Coverage

Custom Branded Chocolate Gifts: Totally Chocolate offers beautiful, custom chocolate corporate gifts, luxuriously engraved with your own logo branding, designs or text. You can personalize the chocolate box and packaging, too! Chocolate Logo & Corporate Branding on Chocolate: Create and order wholesale or small-batch custom branded chocolate bars and cookies with your logo, ideal for promotional marketing or as business and employee gifts. Personalized corporate logo chocolates and personalized candy make unique luxury gifts. Customized Chocolate Candy Bars: Surprise clients and dear ones with customized chocolate candy bars for holidays, birthdays, anniversaries, weddings and special events. Our gourmet dark and milk Belgian chocolate is sure to please the most demanding chocolate connoisseur. Promotional products: Imprinted chocolate and branded packaging is our specialty. Transform any of our luxury products to be your own logo or designs!