Every business wants to get noticed, but it can be tough to come up with fresh ideas that will stand apart from the crowd, especially when it comes to corporate gift ideas. How many branded water bottles and pens does a person need? Besides, water bottles and pens are quickly lost and easily forgotten.
There can be a lot of demands for coming up with the right corporate gift and we've heard them all. A gift that has to be unique, memorable, useful, delivered on time and within budget. Sound familiar?
At Totally Chocolate, we have you covered every step of the way. Our process makes it easy for anyone in any situation, whether there is a time crunch or tight budget. Our amazing team takes ideas and turns them into stunning, sumptuous gifts that won't be easily forgotten.
We take your business gift ideas and translate them into chocolate and packaging designs for free. We make and ship amazing & memorable chocolate business gifts, in short runs, with fast turn-around. You can be sure that we are completely committed to ensuring that every moment of your order experience is as smooth as our 100% Belgian chocolate.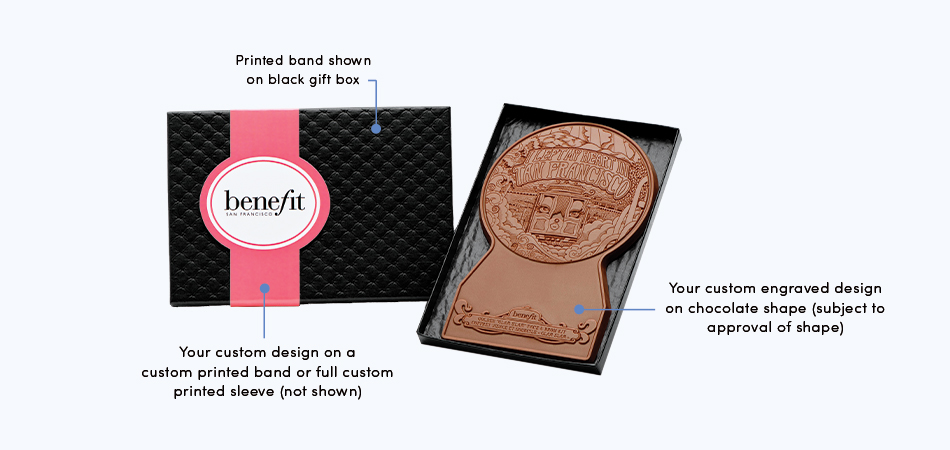 Personalized Business Gifts
Logos can be printed on anything, but at Totally Chocolate, we custom engrave your company's branding directly onto dark, white or milk chocolate. Our satisfied customers come back again and again to tell us how effective these unique business gifts can be in getting their branding "out there."
We engrave with incredible precision and produce amazingly detailed high definition chocolate designs. Our edible product is something that we are very proud of. We use 100% pure, Kosher, Belgian chocolate using the highest quality ingredients.
Over the 30+ years we've been in business, we've catered to some unique requests, and we always love a good challenge. Maybe you need an item with your company logo on it for swag bag fillers or to offer as trade show giveaways. Perhaps you'd like to give your clients something unique for the holidays, or in honour of a special corporate event like an anniversary or product launch. Or maybe it's just to say thank you to your customers for their continued business and support.
Whatever the case, Totally Chocolate is the best way to show your brand. Our creative business gift products are unmatched in design and quality. Don't have your own design? We'll create the artwork free of charge!
Here are just a couple of satisfied customer testimonials:
"I have to tell you – the chocolate bars that you guys created were a HUGE HIT with our vendors and customers. Your company did an outstanding job with our logo and going that extra mile to make the exact bar we wanted. I wanted to send a note of appreciation." – Beth W., Office Manager
"One of the best, no make that THE BEST marketing piece I have ever received." – Mark M., Sales Manager
If you are looking for a unique corporate gift idea that will be both memorable and delicious, you have come to the right place. No matter your request, we will work with you to help it become a reality. The good thing about being in business for over 30 years is that we've seen it all, and we can't wait to see more. We look forward to hearing from you soon.
[contact-form-7 id="13422″ title="Fully Custom Order"]