In most of the Western world where Valentine's Day is celebrated, it's extremely commonplace for couples and romantic attachments to give each other chocolates as a symbol of love. While teddy bears and roses are some other options that go along with the gift package, chocolates are the absolute staple.
But have you ever wondered why we give chocolate on Valentine's Day? There's no single answer to this question. But there are a couple of explanations that may give us a hint as to why chocolates make it to the top of the list each and every February 14th. Let's take a look at some of these.
Why do people give chocolate on Valentine's Day?
With Valentine's Day approaching fast, you may have started looking for chocolate gifts to give your significant other. But have you ever paused to think about why chocolate is given on Valentine's Day?
It's commonly believed that chocolate is an aphrodisiac. Even though chocolate indeed contains substances that are thought to be mood boosters, Valentine's day association with chocolate is primarily historical.
We dug deeply and came up with a couple of historical developments leading up to this contemporary and romantic tradition. But it goes back to many centuries ago starting with the Mayans.
Central America
The Mayans, which was a civilization estimated to have been around during 500 BCE, used cocoa-brewed beverages during wedding rituals to demonstrate the couple's bitter-sweet future together. And this is what has apparently kick-started the tradition of celebrating love with chocolate.
Then came the Aztecs, another South American civilization, which was led by Montezuma II at one point. Allegedly, he used chocolate as an aphrodisiac although current scientific studies don't show a strong correlation between chocolate and one's libido.
Europe
Fast-forward to Europe a good couple of centuries later, we have Richard Cadbury in the 19th century. He started out by making chocolate much more accessible and affordable to the general public.
His chocolate box in 1861 (adorned with cupids and roses) was an instant hit and even though he didn't patent the box, it became a symbol of love as the boxes were used by lovers to exchange letters to each other and within which to retain keepsakes and special memorabilia.
North America
We now travel to North America where we have Milton Hershey, who created the chocolate "kisses" or drop-sized chocolates in 1907.
But that's not where the story ends.
Romance became even more pronounced with the introduction of the heart-shaped box of chocolates that was created by chocolatier Russell Stover.
The first sales took place in 1923 and this was instantly loved by the public. His biggest success was the "Secret Lace Heart" box of chocolates which contained satin and black lace.
Chocolate the world over
And where are we today?
Although Valentine's Day is not an official public holiday, it is still a holiday that is celebrated by millions of people and different cultures around the world.
Whether you find yourself in Asia or America, Argentina, or Austria – chocolate has been and continues to be the best Valentine's Day gift you could possibly give your loved one or romantic partner.
It can be healthy and good for you. It can help improve one's mood and levels of happiness. It's a way of expressing gratitude and love. And importantly, it is simply melt-in-your-mouth delicious.
Sensuous, luxurious, mouth-watering, and rich. Choosing chocolate means you'll never go wrong when selecting the perfect gift for your loved one.
Valentine's Day chocolate gift ideas
With all this in mind, you're ready to get your loved one the gift of chocolate for Valentine's Day. But where do you start?
At Totally Chocolate, we have you "totally" covered. With a wide selection of chocolate gift ideas, you can truly delight and please your romantic partner. Here are a couple of ideas to consider as you get started: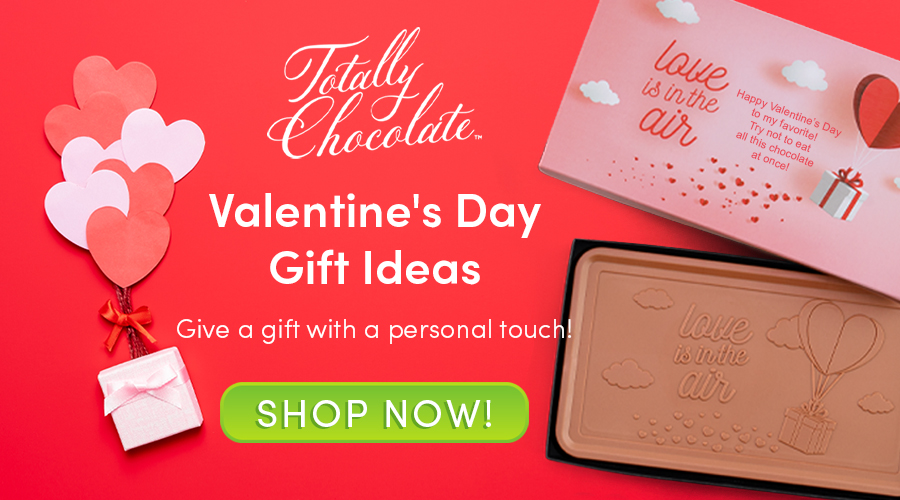 Valentine's Day chocolate box and towers
Our absolutely heavenly chocolate boxes and towers are completely divine and loved by everyone who tries them. With this gift idea, you get a whole lot all rolled together into one.
There are chocolate boxes that come with a large number of smaller chocolate pieces, which surround a larger chocolate bar. There are also cookies of different flavors that are added to the mix. And you can even try luxury tasting boxes for an even wider gift variety.
Giant chocolate bar
Did someone say giant chocolate bars? Yes, we absolutely did! With our selection of chocolate bars, you don't get any run-of-the-mill chocolate that you can get off the shelf at any convenience store. You get a 1 lb or a 2 lb dark or milk chocolate bar that's created to high standards with taste quality guaranteed.
Our chocolate bars are made from premium chocolate. But perhaps the best part is that they can be engraved and fully personalized for that extra special touch. What's not to love about this?
Chocolate ensembles
If you're looking for something additional, something special, something tasty and unique at the same time, you won't go wrong with a 19-piece chocolate ensemble. You will truly be able to spoil your loved one with this creamy, milk, and dark premium chocolate combo.
Pair it with a glass of good wine and you have a perfect Valentine's day combo. Fingers crossed that your beloved one is willing to share.
Wrapping up
Although chocolate is suitable as a gift for practically any occasion, it's Valentine's Day when it truly comes to the fore. It's a holiday chocolate gift that will be loved, treasured, enjoyed, and cherished by your loved one as the memory will linger with them for years to come.
So, give the ultimate gift of happiness this Valentine's Day to your loved one in the form of chocolate! They'll love you for it even more and you'll create lasting memories with a personalized and engraved chocolate gift.
Need some help? Don't hesitate to reach out to us! We're more than happy to help in any way we can.