It is tempting to fall in with the crowd and send out your corporate gifts during the holidays.
However, there is power in offering "Thank You" gifts anytime of the year EXCEPT the holidays. Granted, the holidays are joyous occasions for spreading good cheer. But you want your gift to stand out. It is less likely to get the attention it deserves if it is competing with gazillions of other gifts.
Consider, if you will, the timing of the gift. You want it to be unexpected. You want it to be memorable. Additionally, you want it to WOW your customers. Spontaneity will do just that!
Additionally, gifting all during the year, and just not during the holidays, keeps you top-of-mind with your customers. In fact, they will appreciate your thank you gift when you do NOT send it as an obligatory holiday offering.
When to gift?
For example, you can surprise your customers with gifts on their birthdays. This kind gesture shows that you are honoring them on THEIR special day. You get to show your gratitude AND celebrate them at the same time.
On the other hand, you may want to celebrate a personal goal they've reached, or even an anniversary or the birth of a child.
As a matter of fact, you can take your grateful gift-giving even further. Send creative client gifts in the form of chocolate. Surprisingly, there are holidays and observations that most of us are unaware of. Some are verified, some are made up and silly. In either case, these occasions give you the ability to be creative in your giving. Furthermore, you have the element of surprise on your side!
Below, we've included some observances from January to October that you may want to utilize to express gratitude. At the same, you can time stay top-of-mind. (Of course, I'm including unique client gift ideas in the form of custom chocolate as well!) For the extensive list of holidays and observances worldwide, please check out www.brownielocks.com.
JANUARY
It's the New Year. A time of new beginnings and new reasons to be grateful. Of course, what better way to say "Thank You" than sending an exquisite chocolate gift for "Get to Know Your Customers Day?" (3rd Thursday of each quarter.)
Imagine their surprise when they receive custom wrapped chocolates! This is where your creativity gets to shine. May we suggest a Mini 4×4 Shape to make a special statement? Whatever message or symbol you want to express, we can create it!
Your design will be artfully engraved into creamy milk, dark or white pure premium chocolate. Every delicious bite will surely delight! With this in mind, you are creating a conversation. This, in turn, opens a window into learning more about your customers!
Moreover, if you are needing to be gentle with your budget, these are perfect inexpensive gift ideas for clients.
To briefly point out, January 26 is Dental Drill Appreciation Day. However, we need not go any further with that one!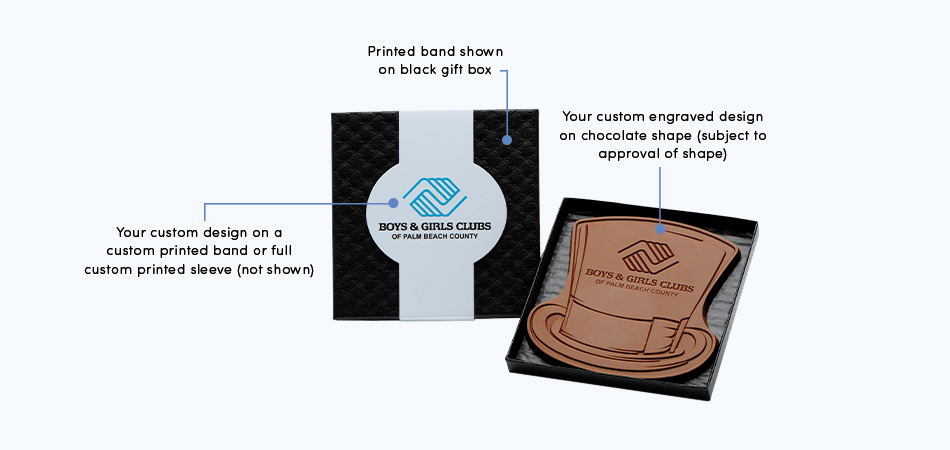 FEBRUARY
This year, Random Acts of Kindness Day fell on the 17th. What better way to treat your customers than with a random gift of succulent premium chocolate?
Consider our 6-Piece Oreo Cookie Engraved Premium Chocolate set. Scrumptious Oreo cookies are blanketed in decadent premium chocolate. Additionally, each cookie is engraved with a "Thank You" message.
Equally beautiful, the luxe box is adorned with a colorful, geometric "Thank You" design.
The last Saturday in February is International Tongue Twister Day. Imagine your customers' surprise when you gift them with "Thank You" chocolates paired with a custom card. You supply the tongue-twister message, and we'll print it for you! It's a surprise that is surely laugh-worthy!
MARCH
March 1-7 is National Write a Letter of Appreciation Week. Comparatively, National Words Matter Week is March 3-9. What a perfect time to pen a letter or note letting your customers know how much you appreciate them. It doesn't have to be long or fancy. A few heartfelt words go a long way toward making them feel valued.
It is also important to realize that the 3rd full week of March is American Chocolate Week. What a perfect time to express sweet gratitude!
APRIL
April is International Customer Loyalty Month. An entire month to celebrate customer appreciation! How will YOU give thanks to your customers for their loyalty?
To be sure, you want to stand out. Here is a wonderfully delicious way to say "Thank You." Say it IN chocolate! More specifically, you can design a custom thank you note, and we can engrave it into the chocolate. The result? An irresistible lush and edible letter! Thank you promotional letters with a melt-in-your-mouth appeal are sure to surprise!
Additionally, if you are looking for other unique corporate branded chocolate, we can create beautiful Belgian chocolate menus and business cards!
Also, April 3 is Share a Rainbow Day. Share your thanks (and a rainbow) with our scrumptious 6-Piece
Confetti Cookie Set.
Each crisp sugar cookie is draped in gourmet white premium chocolate. Mixed into the chocolate are bright colorful cake sprinkles! A tasty rainbow, to be sure!
MAY
May is National Smile Month. Also, did you know that May 25 is Sesame Street's Cookie Monster's birthday? Gift your customers with smiles AND luxurious premium chocolate-draped cookies!
JUNE
June 1st is Say Something Nice Day. Reach out to your customers via email, a phone call, or a sweet note to tell them how much you care for them. Nice words cost nothing, yet carry a very high value.
JULY
July 7 is…you guessed it. Chocolate Day! Need we say more?
AUGUST
August 10 is S'Mores Day. Ahh, the warm days of summer. Cool nights. Campfires. And, no campfire is complete without S'Mores! Gift your clients with sweet squares of creamy premium engraved chocolate. Each square is just the right size for a summery S'Mores treat!
A side note: August 30 is National Toasted Marshmallow Day!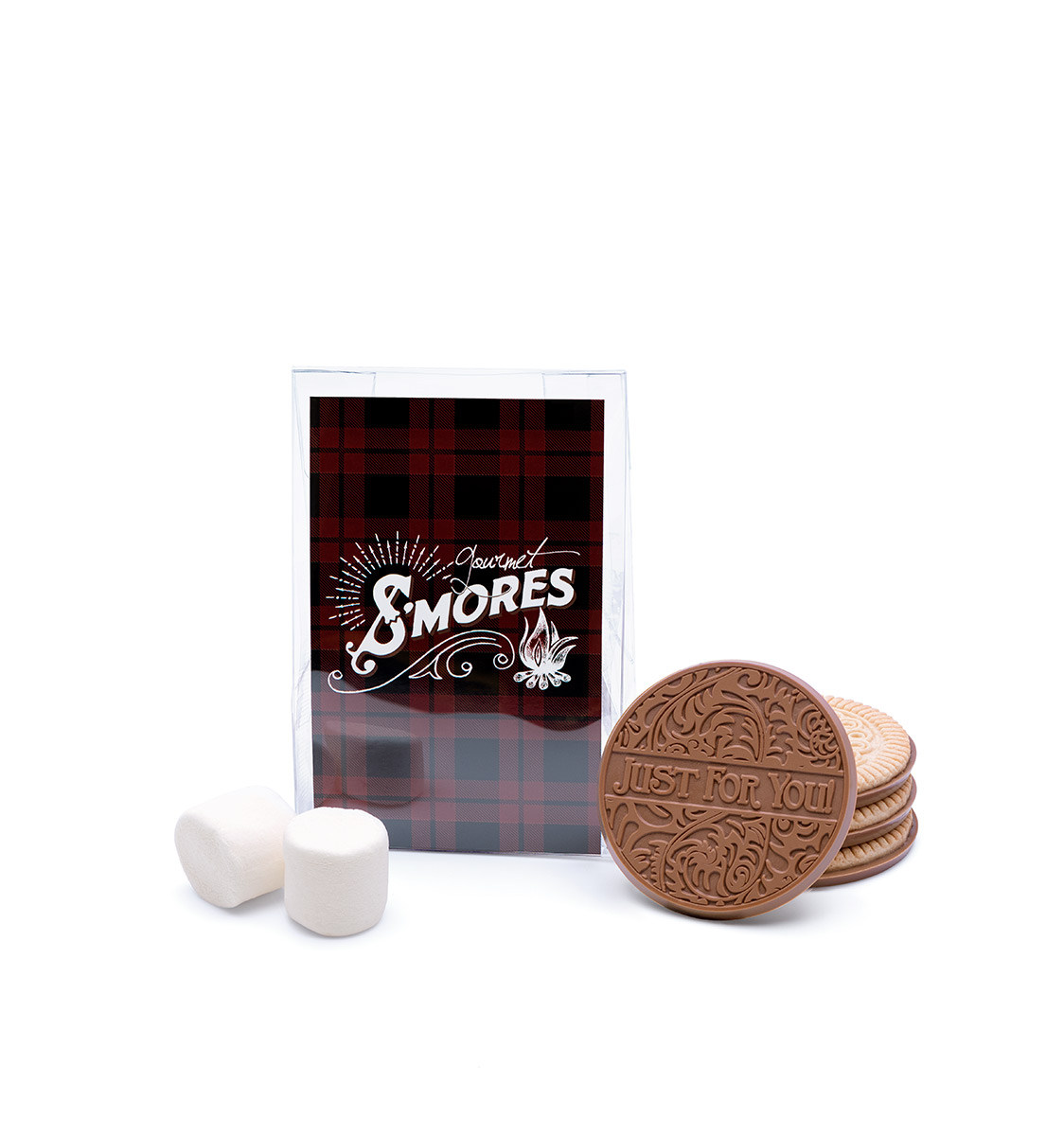 SEPTEMBER
This year, National Day of Encouragement fell on September 12th. It's a wonderful occasion to give thanks to your clients. Not to mention, a perfect day to extend positive feelings to others. Brighten a client's day with thoughtful words and sentiments. Let them know you appreciate them. A simple, heartfelt note or an artful chocolate treat will truly make a lasting impression.
OCTOBER
Are you looking for luxury corporate gift ideas or indulgent high-end client gifts? Would you like to infuse your clients with wonder and awe before the holidays are in full swing? By the same token, perhaps you'd like to give an opulent, upscale and customized gift.
We can help you design a more expensive thank you gift for that special client or customer.
Our Indulgent 3-Piece Gift Tower is the ultimate chocolate gift experience. The top tier box encases 12 sumptuous, creamy salted caramels. Each one is draped in flavorful dark premium chocolate. With this in mind, October also happens to be National Caramel Month!
The center tier showcases 12 European-style sugar cookies covered in dreamy milk or dark chocolate. Alternately, you can select white chocolate with peppermint or white chocolate with sprinkles. For an added WOW factor, the milk and dark chocolate cookies can be custom engraved.
The bottom tier contains a 2 pound milk or dark premium chocolate bar. This signature (and most popular) bar can be engraved with a custom image or an inspirational message. Not only that, you can also create a special gratitude message to be engraved onto the chocolate.
As you can see, opportunities to express gratitude are limitless. Creativity abounds when paired with imagination, thankfulness, and the art of surprise.
[contact-form-7 id="13422″ title="Fully Custom Order"]