She's your best friend. She knows you better than anyone. And she gave you life. Yes, your mother is possibly the most important person in your life and to celebrate this special occasion, on Sunday, May 14th, you have the chance to show your gratitude and appreciation for mom.
Some of the more traditional gifts that children give their mothers on Mother's Day include flowers. But because these don't have a lasting effect, the chances are that you're looking for something different and a bit out of the box. This is why you may be wondering what to give instead of flowers or what are Mother's Day gifts that aren't flowers.
Here at Totally Chocolate, we have the answer. It's universal, customizable, beautifully wrapped, affordable. And the best part? It is utterly delicious. Yes, we are talking about Mother's Day chocolates.
So, if you are wondering how to pick the best chocolates for Mother's Day and what the best chocolate gift ideas are, keep reading below!
How to pick the best chocolates for Mother's Day
If you're on a budget and you're looking for small Mother's Day gifts, then you simply cannot go wrong with chocolate. But how do you pick the best chocolate for Mother's Day? Here are a few selection criteria that you should consider.
1. Preferences
Although chocolate is practically universal, everyone has their favorite slab of chocolate. Some prefer the darker and more bitter flavors while others may like the creamy richness of milk premium chocolate.
Either way, we've got you covered because we offer a selection of both and you can choose from a wide range of chocolates that your mom will absolutely love. So, think about her favorite flavors first before you do anything else.
2. Quality
Next up in terms of selecting the best chocolate gift for Mother's Day is the quality of the chocolate. Many chocolates out there contain a lot of sugar and artificial flavors and ingredients that can affect the final outcome of the chocolate's flavor.
However, at Totally Chocolate, we are totally committed to high-quality chocolate products and you can rest assured that we only use the finest ingredients when preparing the chocolate for your mom.
3. Presentation
Presentation is the other important part of the equation when it comes to picking the best chocolate gift for your mom this Mother's Day. Yes, you can go to a store and buy store-bought chocolate in a standard box. But do you really think that this will tell your mom that you've put much thought into buying a standardized and generic gift? We didn't think so.
Luckily, at Totally Chocolate, we offer beautiful chocolate boxes that have the most amazing and unique designs on them. Our Mother's Day-themed designs can be complemented by your unique message. And to make it even more personal, add your favorite picture on the lid to make it truly one-of-a-kind. That's definitely one way to make your mom feel special.
4. Personalization
And of course, we can't leave out personalizing your chocolate gift for Mother's Day to let your mom know that you have put a lot of thought into her gift. But how can you make chocolate personalized?
Don't worry. At Totally Chocolate, we've got you covered. We actually engrave the chocolate for a more well-rounded, fuller chocolate experience that your mom will absolutely love!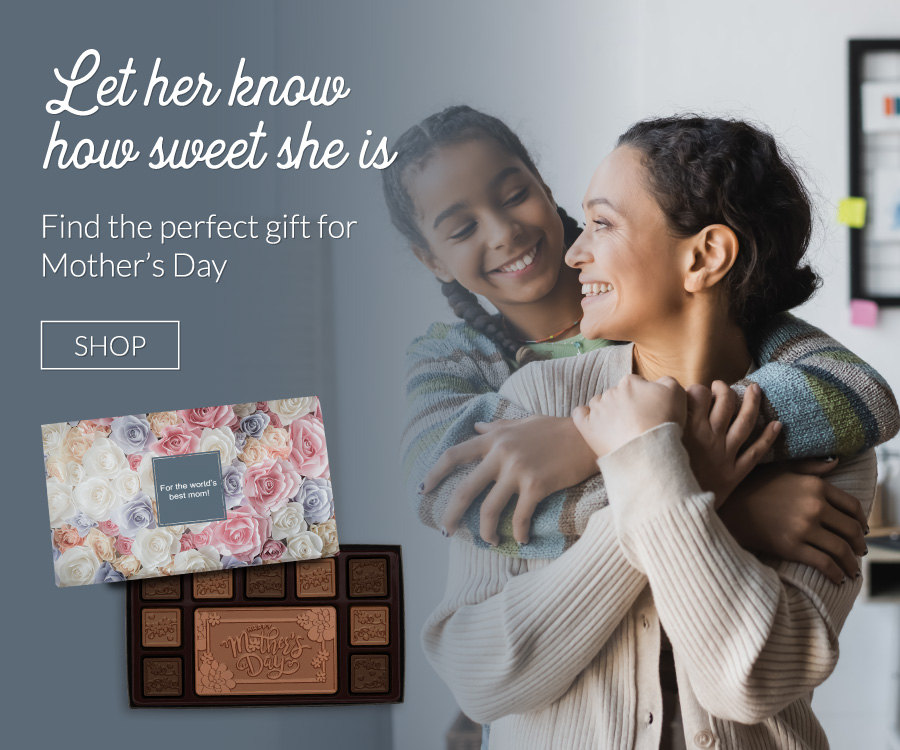 Mother's Day chocolate gift ideas
Having covered the basics of what you need to consider, it's time to look at a couple of Mother's Day chocolate gift ideas that we have on offer.
If your mom is a more traditional person, then you'll definitely want to consider our box of chocolates. But if you thought that this is just a standard box of chocolates, you'd be wrong. Our boxes of chocolates contain a 19-piece ensemble of engraved premium chocolates, suitable for every pallet and a total delight for the senses. Pure quality at its finest!
And if your mom is more modern, then why not treat her to a 1 lb bar of chocolate that's fully engraved? These engraved premium chocolate grand bars are the ideal gift that will not only be totally memorable but also leave a positive and lasting impression on your mom this Mother's Day.
Overall, you can take a look at our finest selection of Mother's Day gift ideas and select the perfect gift for your mom to show her appreciation and love. This out-of-the-box gift will go a long way to making your mom feel special and cherished, as she so rightly deserves.
Wrapping up
If you are looking for a holiday chocolate gift, particularly one for your mom to spoil her with chocolate this Mother's Day, then we at Totally Chocolate have the answer!
With our personalized chocolate bars and Mother's Day gift delivery, you simply can't go wrong as you express your love and appreciation for your mom on this special day.
This means that even if you're far away from mom this Mother's Day, she'll still receive her gift on time and know that you are thinking of her.
The surprise of getting her something other than flowers, the uniqueness of the gift, and its totally personalized nature means a special gift that will be memorable. And who knows, she might be willing to share a bite of her chocolate with you, too!