The holiday season is nearing and it's the time of giving and receiving. There's no better occasion to show appreciation than by giving your coworkers a meaningful gift.
Because there may be many coworkers in your organization, some have an informal Secret Santa exchange. This is when one coworker randomly picks another coworker's name out of a hat and is responsible for buying them a Secret Santa gift.
Often, the recipient doesn't know who the giver is and that makes the entire experience 10 times more fun.
But what types of gifts are appropriate for coworkers, how much should you spend, and what are some Secret Santa ideas for coworkers? In this article, we explore the answers to these questions. Stick around to find out more.
What Secret Santa gifts are appropriate for coworkers?
When it comes to Secret Santa gifts for coworkers, the best ones are thoughtful, meaningful and practical.
Since there are usually limits on the value of the gift, it is important to choose coworker gifts that are simple and sincere.
This means you should opt for something that is within your budget and conveys genuine appreciation.
How much should I spend on a coworker's Christmas gift?
Finding the perfect gift for your coworker can seem like a daunting task. But it doesn't have to be if you follow some of the rules surrounding gift-giving etiquette. Let's start with the price.
Many company departments place a cap on the amount. This means that you might aim to spend between $20 and $50 on your Secret Santa gift. And there are valid reasons for this.
One is not to force the giver to spend more than they can afford. And two is to ensure that employees do not break company policies for gifts.
Although not every company has a gift-giving policy, you should exercise restraint and caution when purchasing your budget Secret Santa gifts. 
A further rule of thumb is to avoid gifts such as those that are too personal, gag gifts, expensive and luxurious gifts, and anything that may send the wrong message.
You are seeking to warm your coworker's heart with your gift and not to embarrass them or make them feel uncomfortable. So, exercise caution when choosing your gift.

What is a good Secret Santa gift for a coworker?
Depending on your coworker's personality, interests, hobbies, and more, you should choose thoughtful gifts to give them. But what makes a gift thoughtful? The answer lies in personalization.
With personalized coworker gifts—which either feature their name, certain defining characteristics, or a special message tailored just for them—-you are much more likely to strike the right chord when it comes to giving unique personal Christmas gifts.
As mentioned earlier, although you might consider getting funny Secret Santa gifts for coworkers, avoid gag gifts or those that are likely to cause embarrassment.
That's especially true if you don't know the coworker too well. Even if you know them well, steering away from anything that might cause discomfort is a good rule of thumb.
And if you're running out of ideas, here is a short but helpful list of creative Secret Santa ideas that you might consider:
A personalized notebook or journal
A water bottle
A gift card
Chocolate treats
A coffee mug
A special pen
A container of stackable storage bins
An electric lunch box
Sauce kits
A laptop sleeve
A calendar or a planner
A stationery set
A wireless charger
Essential oils diffuser
Coffee pods
Is chocolate a good Secret Santa gift?
One of the key characteristics of a great Secret Santa gift that we mentioned earlier is the personalization factor.
Whether it's a unique message, mentioning them by name, or mentioning some unique characteristics of your coworker, personalization goes a long way to making a gift memorable and that much more enjoyable.
But what is the balance between personalization and getting your coworker an affordable gift? What are some of the perfect gifts you can choose to give your coworker as their Secret Santa?
At Totally Chocolate, we have the answer. And it involves giving your coworker high-quality sweets. 
However, if you're thinking about the generic type, think again. Here, at Totally Chocolate, we offer not only chocolate boxes but custom chocolate boxes.
What does this mean? It's about choosing the best chocolate box full of dark or milk premium chocolate and ensuring that it is as fully personalized as possible. Here are some of the products from our holiday chocolate gifts collection: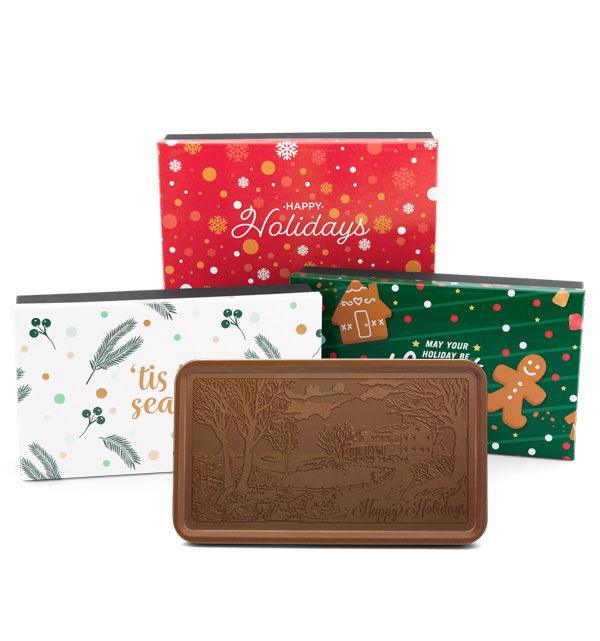 Celebrate the holiday season with our 3 BOX VALUE PACK of premium milk chocolates, beautifully presented in three festive-themed boxes featuring a snowman, snowflake, and tree. Each 8-ounce box is filled with individually wrapped chocolates, totalling approximately 24 ounces, perfect for a Secret Santa gift. Delight your loved ones with these charming and delicious treats that capture the essence of holiday cheer!
Delight your circle with our customizable milk chocolate ensembles, featuring a rich core of pure premium milk chocolate surrounded by 2 layers of milk and dark premium chocolate perfect for "eat one, share one" indulgence.
These chocolate treats, engraved with a 'Merry Christmas' message and elegantly packaged, offer a personal touch for gifting, ensuring a memorable and sweet experience.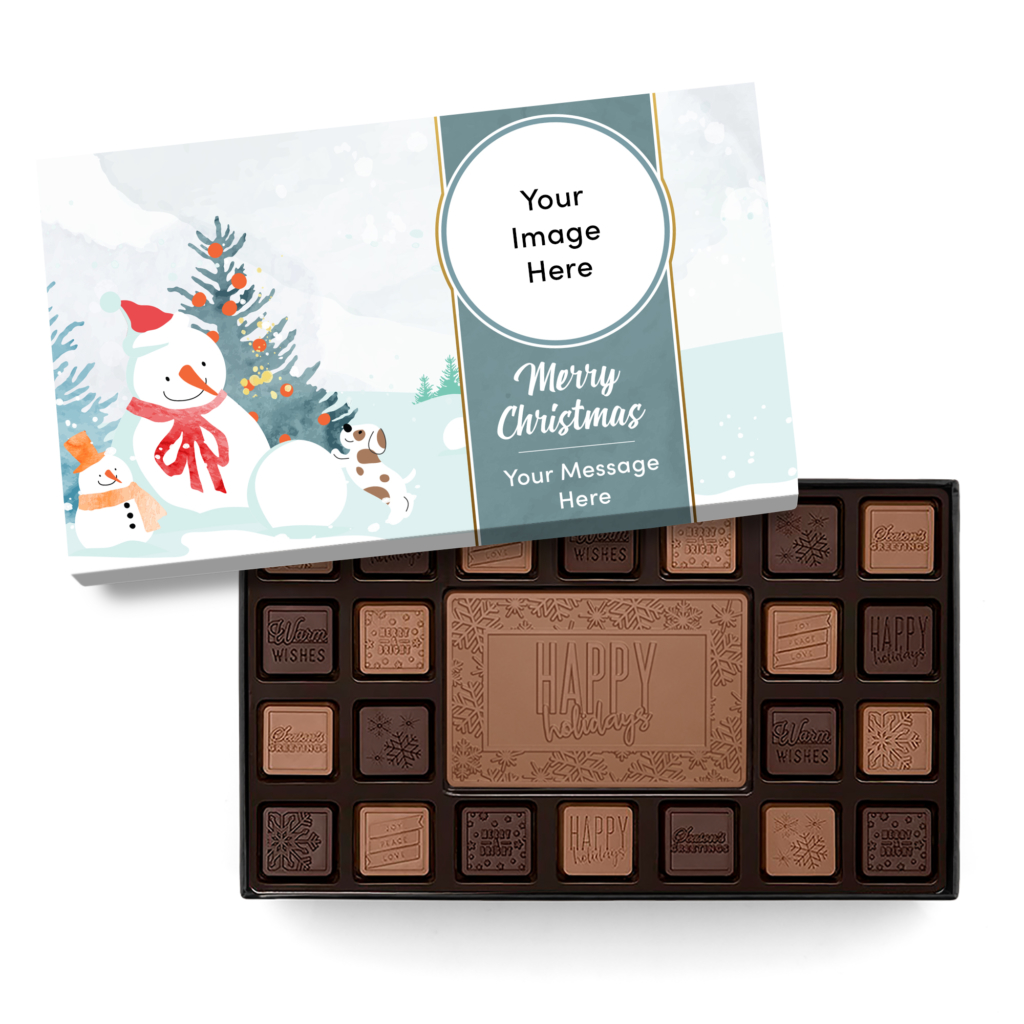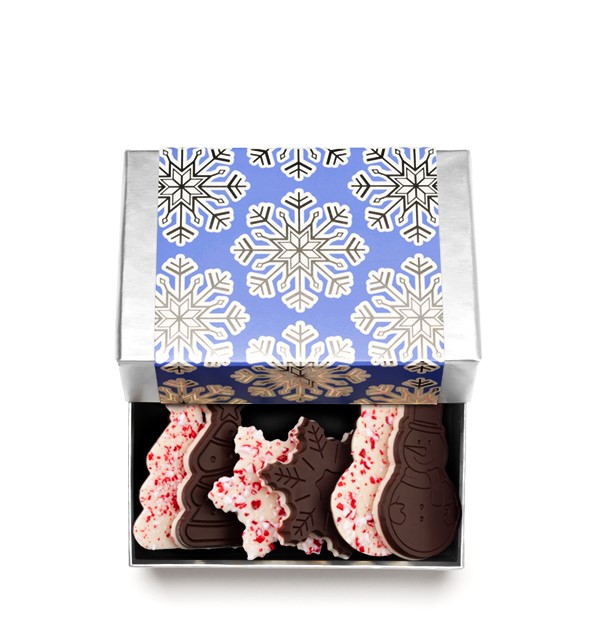 Discover the joy of the season with our 6-piece Peppermint Bark Holiday Box! Each piece masterfully blends the festive flavors of peppermint, creamy white chocolate, and rich dark chocolate. It's a delight that's perfect for holiday gifting, sure to please your coworker with every delectable bite.
We can also engrave the chocolate itself and make the beautiful wrapping and packaging on the outside as unique and specially tailored for your coworker as possible. 
A box of chocolates is a classic and universal gift that goes a long way to showing your coworker you care about them while giving them something thoughtful and special.
What's more is that chocolate can be a great stress relief gift because it can be good for one's health when consumed in moderation.
Final thoughts
When it comes to finding and choosing the best Secret Santa gift for a coworker, it's essential to ensure you stay within the allocated budget and give a gift that's thoughtful, sincere, and meaningful.
Of course, as a classic and universal gift, a customized and personalized box of chocolates can achieve this dual goal for you perfectly.
So, feel free to explore our selection of delectable chocolate boxes and other chocolate gift ideas to ensure you give the perfect gift this holiday season.