Custom engraved chocolate wedding favors are the perfect accompaniment for your wedding or bridal shower.
From custom chocolate menu bars, to delectable personalized cookie wedding favors, treat your guests with your own stunning wedding theme designs and enjoy the unique taste of Belgium's finest chocolate. 
Got Wedding Favors Ideas? Get A Quote!
If you have a theme or idea for your wedding, speak to us!
We have chocolate specialists who can advise on the best chocolate candy bar, custom chocolate cookie or truffle wedding favors, to suit your needs and budget.
Edible Wedding & Bridal Shower Favors
Let Totally Chocolate cross one more thing off of your wedding day to-do list. Our completely customizable wedding chocolate favors make a great gift for your bridal shower, your wedding party, and your wedding guests. We can even design it all for you, just tell us what you want!
We use the finest 100% pure Belgian chocolate to ensure your special day is perfect.
Contact our Art Team
If you are looking for a quick solution for your wedding day chocolate, Totally Chocolate has excellent pre-made, ready-to-ship chocolate for your big day, simply personalize the packaging to suit. Our stock product selection is perfect for wedding gifts, bridal showers, or anything else wedding related.
Browse Our Ready To Ship Products
Our Chocolate specialists are available to help you at any stage of your planning. We can advise on popular products to customize, or give you ideas on how to create one from a vision. We also have a complimentary design team to get your design.. just perfect!
Speak with us on Chat or call us on 800-255-5506
Ask A Question to our Wedding Chocolate Specialists
How Do I Customize My Own Favors?
Watch and learn how easy the process is!
1. Choose the chocolate product
2. Personalize the Packaging
3. We can do the design work .... and you just look amazing!
Here is what our past clients have to say
"I just wanted to say thank you – the chocolates arrived and were stored safely at the hotel. They turned out wonderful and were a big hit with visitors to our exhibit booth! Some even said they were too cool to eat"
Katie Meyer-Griffith, Career Guidance Product Manager
"Top notch customer service throughout the process. We ordered 100 boxes of the assorted chocolates with our logo on the 4 x 6 chocolate bar in the center. We had a custom designed band on the outside of the box with our firm logo. Totally Chocolate offers high quality production, materials and excellent tasting chocolate. Dorene was the rep who helped us create the order. Her communication throughout the process was timely. Her suggestions and ideas made the purchase very smooth. I highly recommend this company if you're looking for a gift to impress your clients and business associates"
Kim ***** 5 Stars
"Totally Chocolate is professional, simple and delicious. All our customers rave about it, how beautiful the presentation is and the chocolate is just too good. Super easy to order and highly recommended for large corporate orders. We love Totally Chocolate so much that we started sending them to our employees and our families just because!"
Aleksandra Clark ***** 5 Stars
"My company decided to send Christmas gifts to everyone in our database this year, but I had no idea how to go about it. We were able to send a customized Christmas card that included chocolate engraved with our company logo. I sent a spreadsheet to Totally Chocolate, and everyone on the list had the gift drop shipped to their home. Everything was beautiful and shipped on time, and the chocolate is delicious! We are receiving happy phone calls every day from the recipients. I could not be more pleased with our experience!"
Cheryl Hardacre ***** 5 Stars
"The chocolate went over great at the event and the employees are still asking about them. I appreciate you being able to pull them off on short notice for our event. Was a great customer experience for me."
Anthony Rodriguez, Nikkiso Cryo Inc, NV
"Totally Chocolate have been an absolute dream to work with!  You made my first experience shipping gifts to clients so easy and enjoyable.  Not only was everything done beautifully and on time, every person with whom I communicated at your company was so friendly and helpful!  We are getting calls every day from clients who love their gift.  We will definitely be back next year!"
Cheryl, Administrative Assistant, IN
"You guys make this such an easy process during this busy time of year. We get terrific feedback from our customers and vendors every year from the chocolate."
Viviana, Office Manager, CA
"You guys made us look very good, Next year we think we will just do one layer so 19pc. That way we can send out more boxes, they were a big hit! Thank you and your team for all of your hard work and working with our timeline."
Charlene, Design and Communications Coordinator, CA
"Your gift arrived today. It looks amazing! Almost too pretty to eat. The kids and I are very much looking forward to enjoying it, and we all send our thanks. Thanks for being the #1 best place in America for gifts!"
Lou Hunt – Via email
"Besides the great customer service, Totally Chocolate really makes some killer chocolate! Their custom chocolate bars with our logo imprinted on the bar have quickly become a favorite of our customers and a staple promotion we do that really sets us apart from the rest. Totally Chocolate is affordable and easy to work with - well worth the investment!"
Kyle Bullock – *****5 Stars
"I have used Totally Chocolate for years for gifts for professional colleagues. They are simply awesome. Everything is always done correctly and on time the first time. All the recipients rave about the chocolate. They simply do an excellent job. First class!"
Kenneth Spalding – ***** 5 Stars
"Ordered from Totally Chocolate for a work event, and had a wonderful experience from beginning to end! They were very responsive, and willing to meet our tight deadline. Plus, the chocolates were delicious. Wendy in customer service was awesome!"
Gabriela Gonzalez – ***** 5 Stars
"Totally Chocolate is a great company to work with. I've purchased custom made 2 lb. chocolate bars for my real estate clients. They do a fantastic job of making the chocolate bars look my business card. My clients are always so happy to get the bars. And, the chocolate is delicious!"
Wendy Gates – ***** 5 Stars
"This is the second time we have ordered our holiday client gifts from Totally Chocolate, and again, we are truly pleased with all facets of their product (the shortbread cookies with dark chocolate coating, with our logo stamped onto top of each cookie - yummm!) the packaging, the customer service, the customizability (is that a word?) and the quality check process they have in place. Will definitely be coming back to Totally Chocolate again and again. They have a fantastic thing going on there!"
Gini Queen – ***** 5 Stars
"Excellent service and amazing chocolates! We ordered custom chocolates for customer gifts and they turned out fantastic. The team at Totally Chocolate walked us through the whole process, outlined all the costs, and created packaging that perfectly matched our branding. Will definitely be ordering next year!"
Western Global – ***** 5 Stars
"Our clients just love receiving these.  The calls of gratitude are already pouring in!"
Tiffany, Geotechnical Engineering Company, CO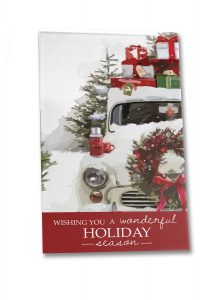 "The chocolates are amazing and look so good.  I couldn't believe how well they turned out.  Thank you to everyone for their incredible work."
Diane, Legal Consultant, GA
"The chocolates were a huge success and helped us stand apart from all of the tins of popcorn everyone gifts this time of year. We could not be happier with your product."
Erin, Manufacturing, MI
"I have already gotten several calls thanking me for the chocolates. They were a huge hit!"
Meagan, Manager of Revenue, Pricing, and Customer Service, MS
"Thanks for all your help with our Christmas order. It has been a pleasure working with you and we will certainly be ordering again. We have had nothing but great reviews from our clients."
Heather, Administrative Assistant, FL
"Love this company! The art department worked well to ensure we got just what we had dreamed of. It shipped timely and arrived perfect! Not to mention, the bars are delicious! Highly recommend."
Promise Pediatrics – ***** 5 Stars
"Totally Chocolate is a great company to work with. I've purchased custom made 2 lb. chocolate bars for my real estate clients. They do a fantastic job of making the chocolate bars look my business card. My clients are always so happy to get the bars. And, the chocolate is delicious!"
Wendy – ***** 5 Stars
"This was one of the easiest and best experiences we've had creating custom- branded products. From the packaging to the actually execution of the chocolate bar itself, everything came out looking exactly the way we hoped it would. And best of all, it's a good eat! 5 Stars for sure. Can't wait to work with TotallyChocolate.com again."
John, Partner & Creative Director, SC
"Very seldom does something exceeds my expectations, in fact i very seldom post a review. This was the case with Totally Chocolate. I purchased holiday gifts (cute chocolate boxes with peanut butter candies) for my customer with custom printed lids and they turned out so beautifully! The process was very easy and painless, as the customer service was outstanding! I highly recommend T/C to anyone!"
Evan, Vice President, Manufacturing Company
"I've worked with Doreen several years now for our Bank needs. She is thorough, knowledgeable and had great insight for our specific need.  She walked me through different options and followed through with me even after It was time for a different department to finalize product.  On top of it, she sent samples.  Both the dark and milk chocolate are of great quality and very delicious!The artwork Dorene helped me choose complimented our logo and was perfect. Her customer service meets the highest of standards. The product was boxed beautifully and portrayed our Bank image in a professional manner.  The product was delivered to our Bank at the time promised."
Annmarie, Bank Vice President
"We received our order today!  We are so pleased, they look amazing!  Thank you for all your help, from start to finish.  The ordering process was easy.  The presentation is beautiful.  Delivery was very timely.  Cookies are delicious. We hope that we can continue our business with you next year!"
Liz, Office Administrator
"This is my first experience with this company and it has been a great one. The ordering process was very easy and organized. The delivery of the chocolates was right on time and the final product looked great. Thank you!"
Hillary
"The Totally Chocolate art department rocks! They took my bits and pieces of ideas and turned them into a masterpiece… in chocolate. I am not an artist so to have them help me and show me so many templates and ideas was amazing! Thank you thank you thank you! I have never worked with a company that is so responsive and it made my project turn out great and I looked like a star!"
Glory N., Marketing Coordinator
"Our order was seamless as usual. I do appreciate how easy you make it for us. There were no issues and we have received several compliments from our clients on how much they enjoyed the chocolate bars. Thank you again and I'm sure we will be ordering for this Christmas as well!"
Tiffany P., Marketing/Proposal Administrator
"Kudos to your shipping department. The order arrived to the hotel in perfect condition even with the warm weather. The iced gel packs were still cool. You guys are pros!"
Stacy S., Guest Services Mgr
"The order turned out great and I still have more of my chocolate in your warehouse, right? Your free storage is the best solution because now I have something for the last minute requests I get from the sales staff. I was worried about ordering the minimum order but now I am happy I did because it will be there all year!"
Marcia B., Promotions and Events
"The best decision I made this year was to have you ship my packages directly to my customer list. The time-savings and hassle-free process was WELL worth the cost, which was actually quite reasonable! Thank you for suggesting that and taking such good care of us."
Robert T., Operations Mgr.
"One of the best, no make that THE BEST marketing piece I have ever received."
Mark M., Sales Manager
"Our CEO was impressed and that's what really matters. Plus your hands on approach from day one made my experience with Totally Chocolate a pleasant one.
Ellen D., Executive Admin
"You and your company are simply outstanding in the way you treat your customers – it is truly a pleasure to do business with you."
Gregg H., Principal
"I have to tell you - the chocolate bars that you guys created were a HUGE HIT with our vendors and customers. Your company did an outstanding job with our logo and going that extra mile to make the exact bar we wanted. I wanted to send a note of appreciation.
Beth W., Office Manager
"By the way, you are great to work with! You have been so responsive and helpful throughout this entire process. From explaining all the options given my project parameters and outlining your custom mailing alternatives to getting me samples and meeting my deadlines, you have provided excellent service. I can tell that you really care about customer service and meeting your customer needs. As a person who works with a lot of vendors, you really stand out as super stars."
Christie H., VP Marketing
"My order arrived on schedule. I really liked the new design on the boxes. My sales staff tells me the chocolates are very well received by our customers. You make ordering very easy and completing my order in July is a plus for me, also. One less thing to remember during the holidays. Thanks for your great customer service."
Pat F., Executive Assistant
"We have used you for our holiday gifts for the past 6 years and last year we tried something different because we thought our customers might like a change but boy were we wrong! They let us know that they missed the great chocolate so we are back and want to take advantage of the early order specials. I'm so glad you save the molds!"
Penny C., Owner
"Yes, for the second year in a row Totally Chocolate was a "sweet" success!! I had a wonderful experience working with you and I can't see why we would not be back again for this holiday celebrations!"
Jeanne P., Corporate Relations, Quality Assurance Dept.
"You make it too easy! I always enjoy working with you. I wouldn't buy my chocolate anywhere else… because you make it personal!"
Michele B., Director of Sales
"Thank you! You made our order hassle free…just what I needed. Thanks for your help!"
Kelsey F., Executive Admin
"The candy arrived on time as promised and it is just WONDERFUL. It was everything that we wanted and then some. The detail was amazing and it was a very good tasting chocolate. We have started to give them out to our store managers to hand out as giveaways to customers. So far, I have received only positive feedback! We made an excellent choice in using Totally Chocolate. Thank you for your help."
Sharon N., Sr. Marketing Assistant
"Everything was great. The chocolates arrived a day earlier than anticipated, which was actually a huge help for our event set-up. The packaging looked sharp and our customers and fellow employees were VERY impressed. Despite the rush, you made life easy for me, and everything came out perfectly! Thank you for your help."
Laura J., Marketing Specialist
‹
›
Need help deciding which Product is right for you?
Our chocolate specialists are waiting for your call!
800-255-5506
Make your day extra special
Need help planning your favors?
Our Chocolate specialist team can assist and design it for you.